Hey gyals, & Happy FRIDAY! Yesterday was the first of the month, did you set out some new goals for the month? Plans for the week? Pay ya rent? lol Anyways, It's Nydira here to give you my first impressions on Urban Skin RX Purifying 2 in 1 Pumpkin Pore Detox Mask & Scrub. Wheewwww that was a lot lol. 
So jumping right in this mask has been something I've been dying to try, I've heard nothing but great things about it. So I finally coughed up the coins and bought it! Upon opening the package it smells BOMB! If you like the smell of pumpkin you'll enjoy this mask! So I washed my face with my normal Urban Skin RX cleanser and then proceeded to apply the mask. It is self warming and felt so good on my face, I could literally rub it for hours if it stayed warm for that long lol. The mask also has little beads in it to help you exfoliate, which is great but it isn't to abrasive where it'll leave your skin raw!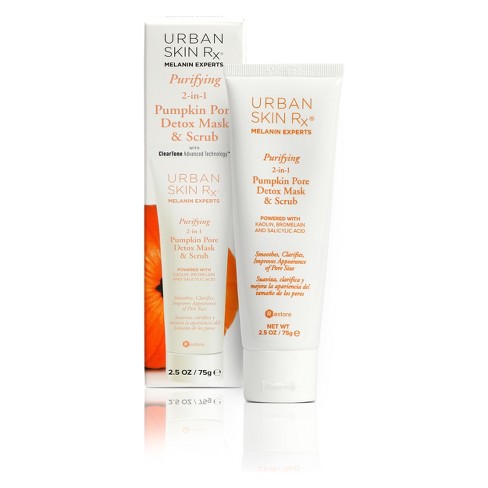 So I left the mask on for over an hour… (Am I the only one that lets a mask sit way longer than the required time) lol, I ended up watching a movie. While having it on, it didn't feel like anything, meaning some mask got tight once dry etc. But with this mask that doesn't happen at all. After washing it off, I immediately  noticed that my pores were so much smaller. I continued to do the rest of my regimen which included witch hazel as my toner and hydrocortisone as my moisturizer. After that I noticed my skin was very soft and my active acne were definitely smaller. So all things were a plus! Only downfall was that I believe for the price I paid for this mask my tube shouldn't be half full lol. I know my product wasn't used because it had a foil seal over it. But overall I loved it and can't wait to see more results when I puts into my regimen every week.
I hope you enjoyed this weeks blog post! Here's a playlist for this month as always we hope you enjoy our playlist! 2CurlyGyals Current Favs: November 💞Comment below what your goals are for the month, or if you've tried any Urban skin RX products, & your playlist!! We'd love to interact with you guys!
Love Always
-Nydira💋